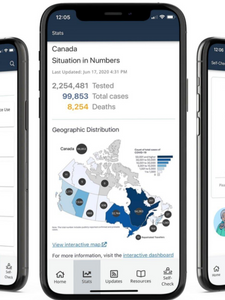 It takes a village to beat COVID-19!
It takes a village to beat COVID-19. Do your part and install the new Canada COVID-19 App, developed in partnership with Health Canada and the Government of Canada as a central resource for accessing personalized, trusted, evidence-based information about the COVID-19 pandemic.
The app will support you to;
track your symptoms,
receive the latest updates, and
access trusted resources.
The app asks for basic information such as; province and postal code and allows you to assess your symptoms and help inform others around you if you are ill or tested positive. It uses blue tooth technology and helps identify and alert the users where there might be a break-out. It works based on you sharing your status voluntarily.  Your information collected by the app is not used to identify you. It is used only in aggregate form and anonymously. 
The app has further resources such as; 
---