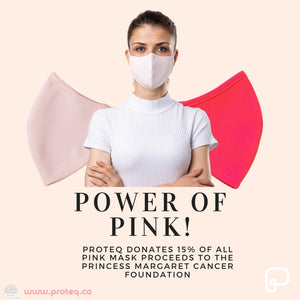 'Tis the Season for Giving!
We, at Proteq take charitable giving to our heart.
In October, we had a campaign to raise awareness for breast cancer and raised funds for The Princess Margaret Cancer Foundation.
This Holiday Season, we continue support the cause and donate 15% of all PINK Mask sales to The Princess Margaret Cancer Foundation to support the fight against cancer, especially during the COVID-19 Pandemic.
Please see below further information on how your purchase help support the cancer patients during these unprecedented times. 
We thank you from the bottom of our hearts for your support. 
Stay in your immediate bubble, stay well! 
Excerpt from The Princess Margaret Cancer Foundation:
COVID-19 is putting unprecedented stress and pressure on Canada's healthcare system, frontline workers and patients. At The Princess Margaret, our cancer patients and survivors are especially vulnerable, especially those with compromised immune systems. At the same time, our healthcare workers are working long, stressful hours on the front lines to deliver urgently needed care. 
The Princess Margaret remains dedicated to our vision to Conquer Cancer, but first we must Conquer COVID. Our urgent priority now is to protect cancer patients and our frontline health workers. During this fast-moving pandemic, every minute counts. That's why we need your support
now
for a new life-saving
Conquer COVID for Cancer
fund.
Your gift to the Conquer COVID for Cancer fund will help in three key areas:
Support Vulnerable Patients
Accelerate the use of technology to help cancer patients access care from the safety of their homes, and enable patients who need hospitalization to connect with family and friends.
Support Frontline Workers
Meet the most urgent needs of our frontline staff, allowing them to ensure their families are safe while they bravely help patients to maintain their treatments during this difficult time.
Clinical Trials
Launch clinical trials to find ways to stop COVID-19 in its tracks, with a special focus on protecting cancer patients and frontline staff during this pandemic.
---