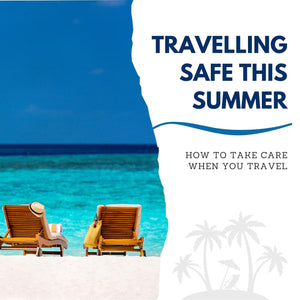 Travelling Safe During Pandemic
As summer is in full swing you might be thinking about making travel plans, please consider these: 
Avoid travelling for a full 10 days after your last exposure

. If you must travel during days 6 through 10 after your last exposure: Get tested at least 5 days after your last close contact. Make sure your test result is negative and you remain without symptoms before traveling.

Have you been vaccinated against

 

COVID-19?

 

If you haven't, get vaccinated. If the vaccine requires two doses, wait two weeks after getting your second vaccine dose to travel. If the vaccine requires one dose, wait two weeks after getting the vaccine to travel. It takes time for your body to build protection after any vaccination.
Have you had any booster doses?

 

Having all recommended

 

COVID-19

 

vaccine doses, including boosters, increases your protection from serious illness.
Are you at increased risk for severe illness?

 

Anyone can get

 

COVID-19. But older adults and people of any age with certain medical conditions are at increased risk for severe illness from

 

COVID-19.
Do you live with someone who's at increased risk for severe illness?

 

If you get infected while traveling, you can spread the

 

COVID-19

 

virus to the people you live with when you return, even if you don't have symptoms.
Does your home or destination have requirements or restrictions for travelers?

 

Even if you've had all recommended vaccine doses, you must follow local, state and federal testing and travel rules.
If you are planning to travel to States, the rule to be tested negative within a day before boarding a flight has been lifted. As of 12:01AM ET on June 12, 2022, CDC no longer requires air passengers traveling from a foreign country to the United States to show a negative COVID-19 viral test or documentation of recovery from COVID-19 before they board their flight. This rule was one of the last remaining government mandates designed to contain the spread of the coronavirus. 
Wear a protective face mask when travelling: Face mask mandates may be loosening across the globe, but when it comes to travel, they're still an essential item to carry at all times for your added protection. 
While some international airlines do not have a specific mask requirement some international carriers have stricter rules and some of them may not even allow cloth masks. After all not all masks created equal. Passengers on these flights are required to wear surgical masks or FFP1, FFP2, or FFP3 face masks (the higher the number, the higher the quality), which are the European equivalent of N95 quality masks. 
Please ensure you are up to date on the latest masking requirement for the domestic or International carrier you are flying with and check the rules followed on each flight. But more importantly, act with self-care as your top priority as you do not want to fall ill when you are on your much-waited vacation this summer. 
Here is our pick for your family:
Adults: https://proteq.ca/products/medical-mask-ffp2-n95-packof10
Kids: https://proteq.ca/products/musk-ffp2-n95-mask-kids-packof10
More on MUSK FFP2: https://youtu.be/Rp55gHCiMR4
Use our special promo code PROTEQ25 for our N95 masks this summer to get 25% off on our MUSK respirators. 
Proper Hand Hygiene: One of the most important rules is to follow proper hand hygiene when travelling as we tend to touch surfaces that are touched by many other travellers around the world. Wash your hands often, and when soap and water is not available carry antibacterial wipes to keep your hands free of any microbes. Avoid touching your face, especially eyes, mouth and nose. 
Finally, keep a safe distance from others. Wishing you all a safe summer to fun travel destinations!
---